Due Dates for E-Filing of TDS/TCS Return AY 2020-21 (FY 2019-20)
Find TDS return due dates and TCS return due dates with the time period and last date for filing for AY 2020-21 (FY 2019-20). TDS stands for tax deduction at source while the TCS stands for tax collected at source. As per Income tax act, if any person makes a payment to the receiver, then TDS is required to be deducted at a prescribed rate and then deposited with the government. While for the TCS, the person receiving the payment has to collect tax from the person making payment and deposit thereafter with the government.
SAG Infotech as always works for helping taxpayers by providing needful materials that make return filing work easy. We cover TDS return filing last date and TCS return filing due dates in a proper format (quarterly basis) for FY 2019-20 (AY 2020-21). Also, the taxpayer gets the details of TDS/TCS payment deposit on a monthly basis for government and non-government employees.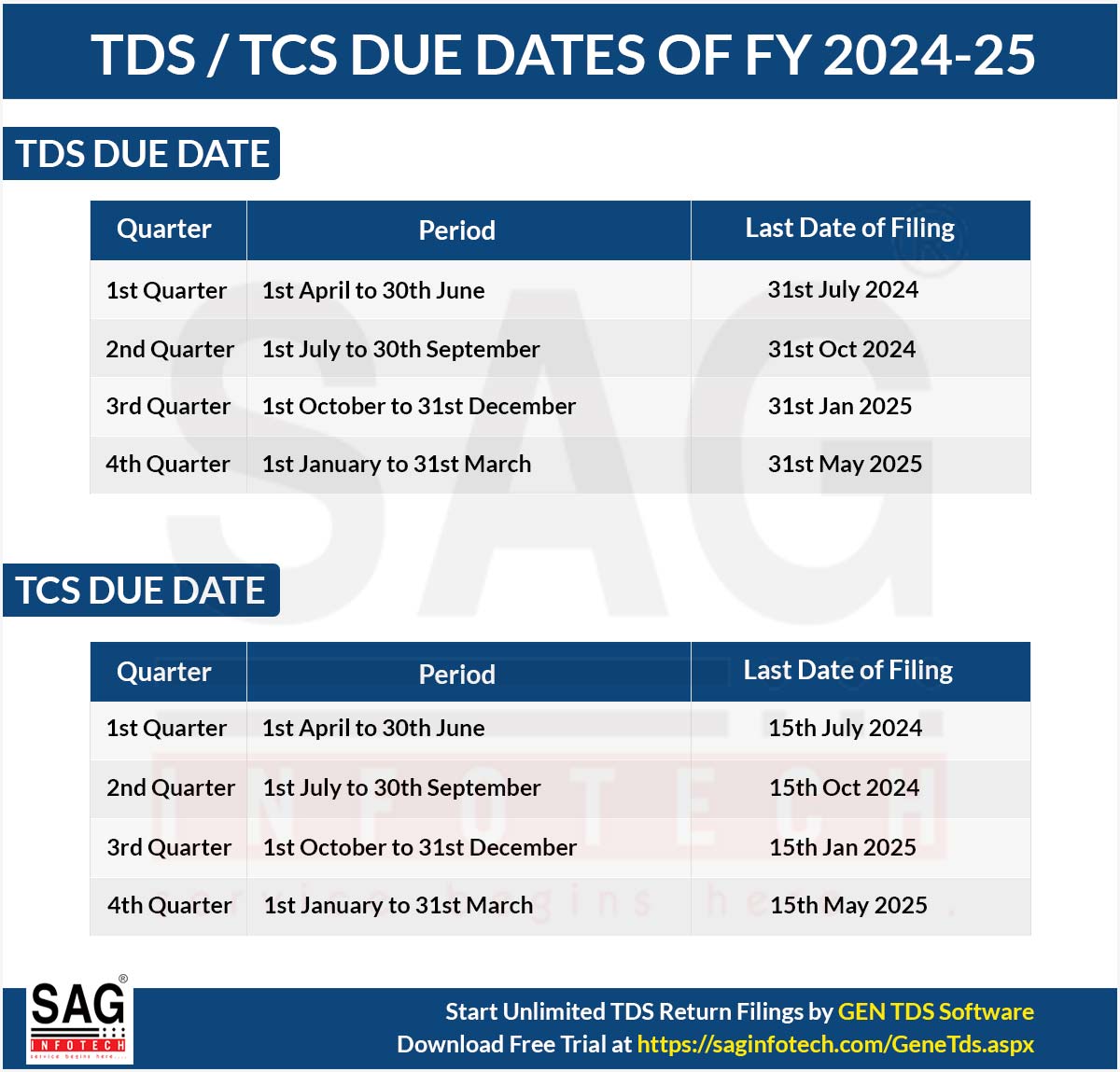 Here we have provided the Last Dates of FY 2019-20 for TDS Return Filing along with the Last Dates of FY 2019-20 for TCS Return Filing.
TDS Due Dates of FY 2019-20 for Return Filing
| Quarter | Period | Last Date of Filing |
| --- | --- | --- |
| 1st Quarter | 1st April to 30th June | 31st July 2019 |
| 2nd Quarter | 1st July to 30th September | 31st Oct 2019 |
| 3rd Quarter | 1st October to 31st December | 31st Jan 2020 |
| 4th Quarter | 1st January to 31st March | 31st May 2020 |
Note: TDS Deducted under section 194IA on the transaction in the month of March, has to be deposited on or before 30th April of 2020.
TCS Last Dates of  FY 2019-20 for Return Filing
| Quarter | Period | Last Date of Filing |
| --- | --- | --- |
| 1st Quarter | 1st April to 30th June | 15th July 2019 |
| 2nd Quarter | 1st July to 30th September | 15th Oct 2019 |
| 3rd Quarter | 1st October to 31st December | 15th Jan 2020 |
| 4th Quarter | 1st January to 31st March | 15th May 2020 |
Note:
Quarterly TDS/TCS Certificate: After uploading quarterly TDS return you can generate TDS/TCS certificate within 15 days of uploading your return…….Read More>>
Source:- saginfotech
Share: